Today is 2-2-22 and all those pairs of 2's must mean that Valentine's Day is just around the corner! This day is focused on showing the love and appreciation you feel towards the special people in your life.
Notice we said "people in your life" – Valentine's Day is not only about your significant other! This year (and every year), we encourage you to celebrate every type of love: not only the love you have for your partner, but also for your family, friends, coworkers, and of course pets too. Single? That's fine! Celebrate the love you have for yourself. Treat yourself to a nice healthy dose of self-love; we're sure you've earned it.
Sometimes, we can feel a little pressure when it comes to V-Day gifts. We don't want to look cheesy or feel like we went a bit too EXTRA or too "insignificant".
So below, please find some cool, special but simple gift options that are not the typical box of chocolates and flowers and better yet, they work well with anyone you love. Here are our ideas for Valentine's Gifts that Don't Suck: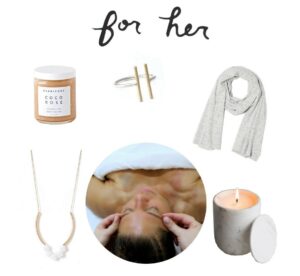 For the ladies:
Whether you're buying something for your girlfriend, wife, sister, mother, or friend, we're sure they will love any of these:
Their favorite body scrub, or bath salts for them to unwind at home (want to make your own? There is a simple recipe on this page for a sugar scrub with just 3 ingredients: brown sugar, coconut oil, and vanilla extract – check it out!).
A cute piece of jewelry that could be used every day, or to go out. Not necessarily something elegant or crazy expensive, but casual and chic.
A neutral shawl or scarf goes well with anything, especially the ones that are multi-use.
A candle, scented with her favorite fragrance, to have her house smelling great all day.
A gift certificate for a massage, facial or spa day! 😍 Can't go wrong with this one, who doesn't enjoy a facial or a massage (either a couples massage or a regular single session). It's her moment to sit back and relax.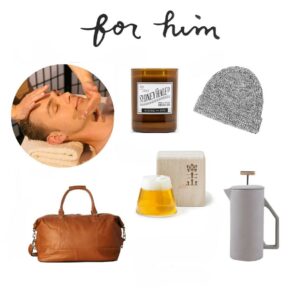 For the gentlemen:
Again, whether it's a little treat to yourself or any of the men you'd like to celebrate this February 14th, here's some great gift ideas:
A massage or facial. Self-care is for everyone! If they feel hesitant to go, why not book a session along with them? 😊
A sandalwood-scented candle has a very masculine particular smell, men love it.
A fashionable travel bag. If your guy is the traveling type, he will love this one. Who said all carry-ons have to look boring?
A vintage whiskey, cocktail or beer glass. Classy and original; you can even get them personalized for an extra special touch.
A French press coffee maker. Don't we all love a little coffee time? The French press makes a strong brew and takes up little space.
All of the above could be great gifts if you don't want to go the traditional way (chocolates and roses). However, the best thing you can give someone you love is YOUR TIME. Think of things you can do together, instead of just a gift itself. Sign up for some fun classes together, go for a picnic at the park, take a road trip or a weekend getaway, cook their favorite meal, or take part in any activity you both enjoy. That will be more valuable than any physical gift. Check this article out for some extra romantic ideas.
Whatever you do, do it with LOVE.  Happy Early Valentine's Day! 💘