The holiday season is upon us again and although many of us can identify it with moments of warmth, joy, and family, it can also be a time of stress and challenges for our mental health.  Being surrounded by advertisements, images, and songs evoking smiling friends and reunited families can bring up feelings of loneliness for many people. Shopping for the perfect gift or preparing to entertain can be draining.
One of the key points to maintain your mental health during these holidays is to establish and respect self-care routines, which is why we recommend these 6 tips:
1. Practice gratitude.  In difficult circumstances it can be easy to focus on the things we lack: money, achievements, etc.  Instead, resolve to start every day writing down three things for which you are grateful. This simple exercise has been proven to help improve your mood and has great long-term effects. Read more about establishing a regular gratitude practice.
2. Maintain a healthy eating and exercise routine. Now, more than ever, it is essential to maintain your exercise routine, not only because it will help you release endorphins to maintain your mood, but also because it will allow you to stay fit and focused.  Also, watch your diet; it can be hard to stay away from temptations these days, so don't blame yourself for indulging in a craving, just make sure you don't give in completely to the chaos and try to eat healthy whenever possible.
3. Meditate every day.  The power of mindfulness to strengthen our mind and spirit has been proven to work and do wonders.  During this time, don't leave your meditation practices aside.
4. Take care of your environment. Clean, orderly surroundings have been proven to help contribute to a calm, positive state of mind.  Don't worry if things occasionally get disorganized or messy (it's the holidays after all), but do your best to straighten up soon after. If you can establish routines that allow you to maintain order in your environment, it will make a big difference!
5. Stay in touch with your loved ones. Not just at holiday time but throughout the year, it is essential that you maintain close contact with those who are important to you.  Take the time to thank them for the time they have dedicated to you through the years, and express your love to them.  You can also organize fun events like movie nights, or virtual board game days.  If you're far apart, you can organize online chats, Zoom sessions, or calls.
6. Maintain rituals and traditions. During the holidays it is inevitable to miss those who are no longer here.  If you have suffered a loss, it is important to establish rituals and traditions that help keep that absent person in your heart. It's not about overcoming the loss quickly, it's about remembering the most important part of our relationships with others.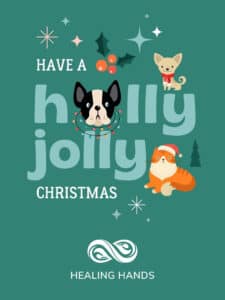 *Bonus Pet Tip:  If you have a pet, especially a cat or dog, it is important that they have a place where they can feel safe and relaxed in case the unfamiliar faces become too overwhelming or the noises are too loud (think fireworks on new year's!).  Remember that what is fun for humans can sometimes be quite stressful for animals.  Place them with their favorite bed and toys, as well as food and water, in the quietest room of the house during the loudest time of the festivities.
As we mentioned in our latest newsletter, this year has been an amazing one for us and we have YOU to thank.  Wishing you all the wonderful joys of the season and a new year full of good health, good times, and the love of friends and family.  See you next year!
With gratitude from Anastasia and the team at Healing Hands 💖